We want to sell is a Battery-Powered Flickering Flameless LED Tea Light , its performance is enough to complete the customer wants it to complete almost all the tasks.We believe that this product can provide customers with an excellent experience, so that customers understand what kind of real good product.

Material:

HIPS

Strobe:

Electronic Strobe

IP Rating:

No Water-Proof

Voltage:

3V
Light Source:

LED

Emitting Color:

Yellow

Control Mode:

Master Slave Mode

Certification:

CE, RoHS

Product Size:

3.5*5.5cm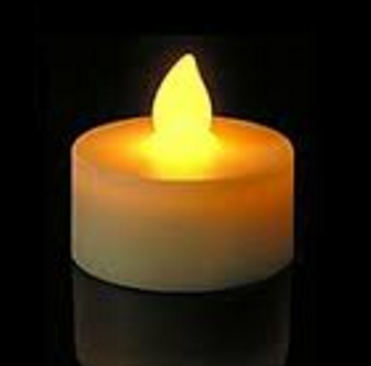 Battery-powered Flickering Flameless LED Tealight Candles
Features:
*Voltage 1 x 3v
*Flickering Flameless LED tea light
* They are bright and safe for any room;
* On/Off button on bottom of each candle;
* Great for parties, Christmas, home decor, restaurants, nightclubs and camping.
*Battery-powered LED tealight candles provides realistic Amber flickering effect
*Standard size fits into any votive or tealight holder
*Energy-saving, smoke-free, flameless LED lights, zero carbon emission
*On/off switch for easy & convenient operation
* They look like real candles, they flicker like real candles, but they are so much easier and safer! No heat, no melted wax to clean up. Ideal for using in decorative displays.
Powered by one single widely available & inexpensive CR-2032 Lithium-ion button cell, the Instapark LED tealight candle can stay lit for well over one hundred hours. And it's a great value and ideal for weddings, restaurants and parties. Coming in a generous package of 12, these candle lights realistically generate flickering effect to simulate burning candles, better yet there's no more black smoke or flame, nothing to clean up. The long-lasting LED bulbs have an average life time of 200,000 hours.
Note:
Please remove the plastic insulation tape prior to use.